Find the information you need about how our machines work from a dealer's perspective. This page has overviews and system specifications.
One of the great things about Leafaway is that our gutter machine combines the best features from different types of gutter machines into one cohesive unit.
The Leafaway machine is the only dual-system gutter machine in the industry. We call it a "dual-system" machine, because it first roll-forms our product into a seamless, full size 5" K-style (OGEE) gutter, and then covers the gutter with a debris-shedding shield that features our patented pooling design. With this design, liquid adhesion and gravity draw the water into the gutter, while shedding debris from the roof and preventing structural damage caused by failed gutters.
In addition to producing a quality product, you'll also see added profit potential, because the machine is designed specifically to offer dual-system flexibility. What we mean by this is that switching from a Leafaway  profile to a standard, full size K-style (OGEE) gutter is fast and efficient. Plus, our machine's three spools allow for color combination flexibility—something no other system can provide.
With Leafaway, our one machine will do it all; just convert and go!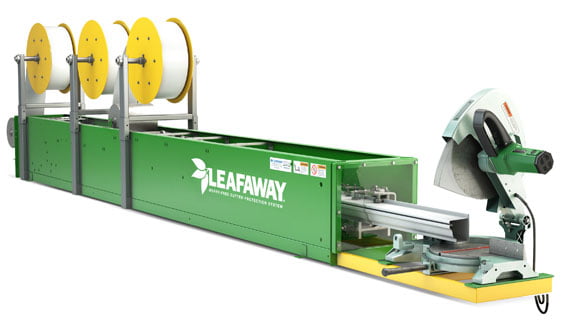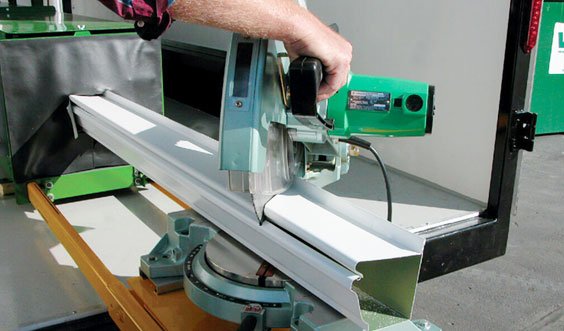 The Leafaway 15" chop saw allows you to cut 90° angles for end runs, 45° angles for inside and outside corners, and any custom angle you need. It also pivots 90° on a turntable for chopping downspouts or fascia boards. The chop saw also streamlines the process of removing old gutters.
coil coating system specifications
LEAFAWAY® Gutter Protection System and Accessories
EMCO Building Products, Inc. General Architectural Specifications
Supra HD™ SMP coil coating system—manufactured and distributed globally by Continental Coatings Inc. and Yung Chi Paint and Varnish Manufacturing Company Ltd.—is a Silicone Modified Polyester High Durability coil coating system, engineered for high-end metal building product applications and challenging exterior environments that require long life and extended warranty coverage. Supra HD system is formulated with a proprietary state-of-the-art polyester resin and silicone polymer system, which is significantly more resistant to UV radiation and natural weathering than traditional polyester paints. Supra HD uses high-quality, long-lasting organic, ceramic and metallic pigmentation to insure excellent exterior color fastness and coating service life. This system is also available in multiple coats and various specialty high-build systems for custom projects and perforated applications. Supra HD may be applied single coat or over the Universal PU-11 High Molecular Weight Urethane Primer or PU-30 High-Build Urethane Primer Systems for extreme environment warranted building product applications.
Supra HD system is designed for trouble-free, high-line speed coil coating line application and has been run worldwide under a very wide range of application parameters and substrate conditions. Standard topcoat DFT is .60-.80 mils, which allows for optimal application consistency, color stability and exterior performance. Supra HD was formulated to provide improved stain resistance and cleanability, as well as scratch resistance and surface toughness, while maintaining the system flexibility required for long term bend line corrosion performance. Supra HD paint film is extra tough and can handle difficult roll-forming, panel stacking and transport conditions. Superior primer corrosion resistance and substrate adhesion provide significantly enhanced protection against wet stack storage problems and cut edge and scratch corrosion.
Supra HD system can be formulated in standard, medium, textured and low gloss/low sheen finishes, and supplied in a wide range but limited color pallet. This premium coating supports an extended warranty and can be applied to a variety of adequately cleaned and treated metal substrates including: Hot Dipped Galvanized, ZnAl, Galfan®, ZAM® and Aluminum. Supra HD can be formulated with COOL ROOF ceramic pigment technology and can be formulated to exceed U.S. Energy Star® requirements. It is most ideal for metal wall panels, industrial and agricultural metal building components, premium rainware, commercial and residential metal roofing, and pre-engineered metal building system applications.
SUPRA HD™ premium High Durability Coil Coating System – Silicone Modified Polyester
Application
Specifications
Test
Results
Application Method
N/A
Reverse Roll Coat
Primer
N/A
Single Coat, PU11 HMW PU, PU30 High-Build PU
Substrate
N/A
Aluminum, HDG, Galvalume®, ZAM®
Pretreatment
Standard Clean and Treat
Chrome, Zinc Phosphate, or Approved Non-Chrome
ASTM D 4138
Dry Film Thickness
Top Coat: 0.6 to 0.8 mils • Primer: 0.15 to 0.3 mils

Total System: 0.60 to 1.10 mils

ASTM D 4212
Viscosity (No. 4 Zahn Cup)
25 to 35 seconds
ASTM D 1475
Weight Per Gallon
9.0 to 12.0 lbs Per Gallon
ASTM D 2697
Solids Per Volume
50 to 55%
ASTM D 2369
Solids Per Volume
60 to 75%
Reducing Thinner
Reducing Solvent
Aromatic
ASTM D 3960
VOC (Theoretical)
3.0 to 4.0 lbs Per Gallon
Clean-up Solvent
N/A
Aromatic/Ketone
Coating Mileage
N/A
1069 to 1176 sq ft Per Gallon
Peak Metal Temperature
N/A
435 F to 450 F
Technical Data
Specifications
Test
Results
ASTM D 523
Specular Gloss at 60
6 to 85
ASTM D 3363
Pencil Hardness
H TO 3H
ASTM D 4145
T-Bend
0T to 2T with No Loss of Adhesion
ASTM D 5402
Solvent Resistance (MEK Rubs)
100 +
ASTM D 3359
Cross Hatch Adhesion
No Loss of Adhesion
ASTM D 2794
Reverse Impact
Galvalume or HDG: 3x Metal Thickness Inch-Lbs, No Loss of Adhesion • Aluminum: 1.5x Metal Thickness Inch-Lbs, No Loss of Adhesion
ASTM B 117
Salt Spray Resistance 1,000 hrs

Salt Spray Resistance 2,000 hrs

Galvalume or HDG: Creep from Scribe < 1/8 in. (3 mm), None or Few #8 Blisters • Aluminum: Creep from Scribe < Creep from Scribe <1/8 in. (3 mm), Few #8 Blisters
ASTM D 2244

ASTM D 4214

South Florida Exposure
Color: No More than 5 (E) Hunter Units at 90 Vertical Angle and 7 (E) Units Non-Vertical • Chalk: Rating No Less than 8 at 90 Angle and 6 at Non-Vertical Angle • Film Integrity: 25 Years, No Blisters, Peeling or Cracking
ASTM D 870
Water Immersion 100 F 168 hrs
No Field Blisters with Minimal Color Change
ASTM D 1308
Chemical Resistance (15 mins)
No Significant Color Change (Color Dependent)
ASTM E 84
Flame Spread Classification
Class I or A
ASTM D 968
Abrasion Resistance
Total Sand = 35 +/- 5 liters (Dft Dependent)
Check us out and stay connected with us on social media. We love hearing from our customers and those interested in our Leafaway gutter protection system. Customer satisfaction is our number one priority!